TAY'S STORY – A SECOND CHANCE: SURVIVING MENINGOCOCCAL DISEASE
Three and a half year old Tay is all smiles despite the major surgery he has just endured on his right leg. "The surgery was painful and scary for Tay, but he really enjoys the novelty of staying at the hospital," says his mum, Kate. "He has been so brave."
Tay is used to hospitals. At 11 months old, he contracted meningococcal disease – a deadly bacterial infection that can kill within hours. His parents, Kate and Craig, were faced with the devastating possibility of losing their only child, less than 24 hours after his first symptom.
"On the Sunday night he was lethargic and he vomited," says Kate. "The next morning he slept in and I had to wake him up. He was drowsy with a high temperature, and just seemed floppy and unfocussed. He threw up his milk straight away. "
Concerned, Kate decided to take Tay to hospital, where she noticed Tay's body was very warm whilst his hands and feet were cold. Despite this significant sign of meningococcal septicaemia, Tay was diagnosed with a viral infection and sent home.
After Tay's unusually long afternoon nap he was still feverish, lethargic and unfocussed, and Kate noticed that his hands and feet now felt freezing cold.
That evening, Kate worried about what to do. "I knew something wasn't right. My instinct was to take him back to hospital, but I was worried I was overreacting."
She then saw something that rang alarm bells. "I noticed a tiny red dot on his tummy. I remembered a rash is bad and I suddenly knew Tay was in serious trouble."
Kate and Craig flew into action and drove straight to hospital. "In the 13 minutes it took to arrive we watched the rash spread up his chest and neck. It was terrifying."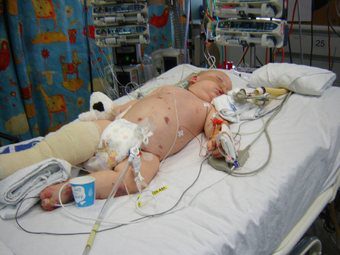 Hospital staff immediately treated Tay for meningococcal septicaemia. Kate and Craig were warned to expect the worst. "I was numb," says Kate. "The previous day he was perfectly healthy. How did he get so sick so quickly?"
Meningococcal disease is terrifying because of the speed with which it can kill and the difficulty of early diagnosis, even by experienced doctors. Whilst the disease can strike anyone, babies and children up to the age of five are at the most risk due to their immature immune systems.
The disease is caused by bacteria that live naturally in the throat, and about 10-20% of people will be carrying the bacteria at any time without becoming ill. The bacteria are spread by respiratory droplets through sneezing, coughing, intimate kissing, and perhaps sharing food and drinks.
There are two types of meningococcal disease: meningitis which attacks the lining of the spinal cord and brain, and the more deadly septicaemia which causes blood poisoning.
Recognising the disease in the early stages is critical, but this can be difficult because early symptoms resemble common ailments such as gastro or the 'flu. As in Tay's case, even medical professionals can make mistakes in diagnosis so it's vital that family members closely monitor patients when they are unwell. Parents and carers need to trust their instincts if they feel "something isn't right".
Symptoms for meningococcal septicaemia can include sudden, severe pain in arms, legs, joints or stomach, shivering, chills, cold hands and/or feet, fatigue, nausea/vomiting, fever and a rash that can start of looking like a pimple or faint pinpricks, and develop into purple blotches over time.
Symptoms for meningococcal meningitis can include a severe headache, sensitivity to light, a painful neck, nausea/vomiting and fatigue.
Symptoms can differ and only a few symptoms may appear. A child with meningococcal disease will get ill quickly and deteriorate fast and if a rash appears the situation is critical.
There is an average of 400 cases in Australia per year and approximately 70% of patients make a full recovery, whilst 20% have health issues or disabilities and 10% will die.
Tay survived, but with a long road to recovery ahead of him. "He had to relearn everything," says Kate. "Eating, making sounds, crawling. He was as helpless as a newborn."
Thanks to his parents and support from family and friends, Tay is now thriving. He is an active boy who adores his little sister Charley and enjoys his numerous specialist appointments. However, the disease wrought some serious damage.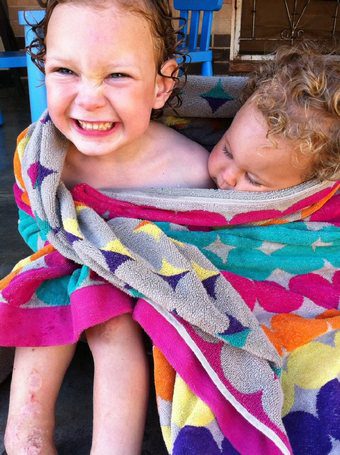 Tay suffered a brain injury which resulted in mild cerebral palsy, causing language difficulties. The septicaemic blood attacked the growth plates in his right leg meaning it is now unable to grow. Every 2-3 years until adulthood, Tay will need surgery to have his tibia and femur broken, realigned and lengthened.
Tay has just had the surgery for the first time. His leg is fixed in a frame and he will be in a wheelchair for 6 weeks. Kate worries about how she will keep her bundle of energy still for so long. "He does get frustrated that he can't just run around and play. We try to make it easy for him but it's a lot for a little boy to go through."
She watches Tay and his dad laughing as they practice on the wheelchair, pretending to crash into the wall. "Tay's a survivor. We're just so lucky to have him."
By Georgia Radinger, Education Program Coordinator, The Amanda Young Foundation
For more information on meningococcal disease, please visit www.amandayoungfoundation.org.au. To organise a free meningococcal disease awareness presentation for your school, workplace or community group please contact education@amandayoungfoundation.org.au.